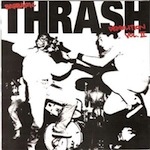 625#54 
V/A – Barbaric Thrash Vol II EP
So I was putting together Volume II of the Bandana Thrash comp, and it was right in the midst of when all that shit was hyped. The term was being thrown around like it was a "real" form of music (which it's not), and some bands quit doing powerviolence and started doing 'bandana thrash' (whatever that means). So, basically, I wanted the
bands on this to speak for themselves. The Bandana Thrash FLexi is awesome, and those bands were really harking back to the mid-80s thrash scenes, but it wasn't a fashion statement, it was out of admiration….and it was also when it was fun, not fashionable. So, anyways, this comp was compiled over a 2 year period. There were some bands that couldn't do it that I asked, and these were the bands that said yes. The bands on this are: DISCARGA (Brazil), ESPERANZA (SoCal), JELLYROLL ROCKHEADS (Japan), LIMPWRIST (US) and LIFES HALT (SoCal). ESPERANZA were the last band to be asked, and they jumped right in the studio and kicked down (what I think to
be is…) their best song. Every song on this comp rules..and that's a first for me. Most of the time a band does not come through and gives you some throw away songs….but not this comp. Not only was I surprised that these bands said yes to do the comp, but that it works so well. Plus I stand behind all the bands 100% as people as well. 2500 pressed, 300 on gold, rest black.