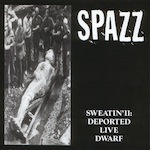 625#51
Spazz – Sweatin' II – Deported Live Dwarf CD
This contains the 1st (and long out of print) Dwarf Jester Rising LP from 1994, the tracks from the split CD with SUBVERSION (only 500 pressed) and an entire live radio show from 1999. 34 studio tracks and a full live set..a full 70 minutes! Way too much SPAZZ, even for the diehard. The reason
why we decided to collect this stuff was not only were their rumors about people booting the Dwarf Lp, but we finally called it quits in December 2000. So what better time to start offering the final will and testament of Spazz. Chris will do a 3rd "Sweatin" series which will collect all the splits
and comp tracks from the Toast Split onwards (96 forwards-I think)so watch for that.