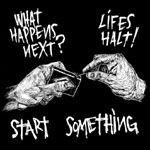 625#66
WHN / Lifes Halt Split Lp/CD
LIFES HALT are probably one of my all time favorite bands……when we firt played together in 1999 we knew right off the bat that there was a bond between WHN and LIFES HALT. We talked about touring together for so long, but we could only do little West Coast tour together…..finally we hammered it out. Summer 2001 was the time set for the tour, and to set things off, we thought we would do a split LP together. The tour was awesome (got to see them 40 nights in a row…not a stinker once) and the
LP stands as testimony to that friendship/experience. As I write this we are getting ready to go down and play LIFES HALT's last show (Dec 8th, 2001). Although all of us in WHN understand, I can't help but feel that its an end to one of those legendary moments in punk when the perfect elements of great song writing, sincere members, challenging lyrics, spawn a definitive band….and the era they have defined (for me at least) is coming to an end with their demise.