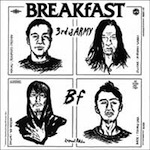 625#46.
Breakfast – EP
Featureing ex-members of O.A.C (two Eps, one on Bacteria Sour), BREAKFAST
take the same influences (80s skate thrash) but speed it up more. More hectic
and aggressive than OAC, BREAKFAST will most definitely be one of the new bands
to watch out for. Plus, I can't help but love em for really skating. I saw them live in Tokyo
and they ruled. Plus I got to skate with Yo the drummer here in SF. Things like that
make a release satnd out because its a release thats based more on friendship than
scenester or business shit. I hope to work with them again.