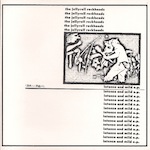 625#43.
Jellyroll Rockheads-Intense and Mild EP
Kenji of RAZORS EDGE side band…I got a demo from my friend Ryo in Osaka, and, like the DISCARGA demo, was blown away. I wrote them instantly and asked them
if they would like to do something. And low and behold, they said yes! A couple of songs will appear on the upcoming "Barbaric Thrash Vol. II" comp, and the rest will be on the debut Ep. Get it or get out of the scene.